Tailgating is Back in Southern Illinois
The final whistle blew for the Salukis on a cold, rainy day in Carbondale on November 23, 2019. People were heading back to their tailgates, but little did they know that it would be their last tailgate until 2021. With Covid restrictions, Southern Illinois University had limited capacity and allowed no tailgates for their football season in spring 2021, but now tailgating has returned for this season! 
Cameron Tabor, a senior at Carbondale Community High School, is a regular at Southern Illinois tailgates and is very excited about being back on the ground.
"It feels great to tailgate again", Tabor says, "I love the environment and the food is amazing"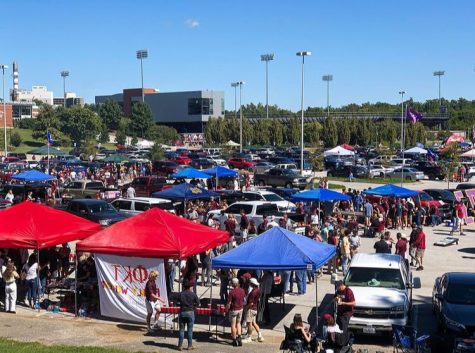 Tabor and his family and friends usually come out to begin tailgating around 8 am in the morning. They will set up their tents, flags, and blast music. Tabor also likes watching others set up alongside them early in the morning.
"The experience of being [at SIU] watching everyone get set up, having Betty there with corn hole and music playing".
  You will normally see Tabor at the tailgates with friends such as Kurtis Robinson, another Senior at CCHS who owns the bus "Black Betty". Robinson takes his bus to every SIU home game and they got the bus by just a coincidence.
"My dad and one of his friends saw her in someone's yard on the way back from Paducah", Robinson says, "he saw the great price on it and realized the opportunity and went to get it a few days later". 
Both Tabor and Robinson have had great experiences with Betty through the years. They both love her and love everything about her and they both reflect about the moments that they have both endured with her.
"I don't really think I have a favorite moment [with Betty]", Robinson says, "Every single second with her is just so special".
"My favorite moment is Black Betty herself", Tabor says, "There's nothing better than an old school bus turned into a party bus".
Betty is very important to the Robinson and Tabor family. Betty will be back out at SIU tailgating on October 16th for the annual Homecoming game at SIU!