Pizza in Carbondale Ranked
An easy dinner go-to is always pizza. Carbondale has a variety of different pizza places from chain to local. The following pizza places in town are ranked from my personal favorites to least favorites. The criteria include my personal preferences and semi-universal preferences. Many of the opinions are based on aspects of the restaurant that are not limited to the pizza itself.
#1 Quatros:
Quatros is a long running local pizza place in Carbondale. Quatros is the best pizza place in Carbondale because their deep pan pizza. They also serve cheese and crouton bowls. If you are from the area, you most likely knew their phone number before your own because of their catchy jingle. The only downside is parking, and it is better in store than delivered.
#2 Primos
Primos is another local pizza place. Primos has a variety of different flavor combinations. The restaurant also serves calzones and has the best pizza sauce on this list. Primos has a wide delivery range even outside of the Carbondale city limits which allows more customers to order.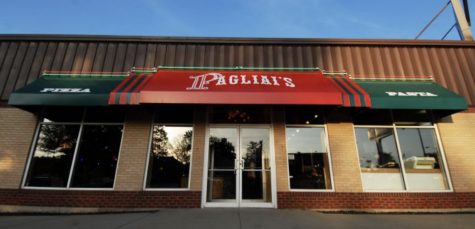 #3 Pagliais
Pagliais (Pags) is also local restaurant. I don't have very vivid memories of their pizza, but the place is right across the street from Dairy Queen. This lets you get pizza and dessert without having to travel far. Pags has many different crust options as well.
#4 Mod
Mod is relatively new to the Carbondale pizza list. Mod is a great pizza for lunch, and they let you pick out exactly what is on your pizza. It is basically a pizza version of subway. Mod, in my opinion, would not be good for a large group. Some people love it and some people do not. However, you are making your own pizza, so if you don't like it that is your fault and not theirs.
#5 Papa Johns
Papa Johns is the first chain pizza place on the list. Papa Johns is reasonably priced for the amount of food they give. Their pizza is almost sweet in a way and has a good crust.
#6 Italian Village
Italian Village is a local pizza place. Honestly, their pizza isn't bad at all. The restaurant started charging a dollar for ice cream instead of having free ice cream. Therefore, it is not in 4th place on the list. They have lots of room for team events or birthday parties.
#7 Pizza Hut
Pizza Hut in Carbondale has recently returned after the town not having one after the old one shut down. Pizza hut has good family deals, and the restaurant has a drive-thru. The drive-thru makes it easy to pick up a quick and personal lunch pizza on the go.
#8 Dominos
Dominos is a good chain pizza. Dominos would be better is it was less greasy and had less garlic. It is a better option to have delivered than try and go in and get the pizza from the shop compared to other places on the list.
#9 Little Caesars
Little Caesars is a classic pizza chain and has the lowest price out of the other options. Little Caesars is usually what parents pick up when a child has their friends over for a get together. Little Caesars is a cheap and easy option when in need of a last minute dinner.