As the date for the upcoming 2020 presidential election grows closer by the day, many voters can distinguish plenty of differences on how this year's voting practices vary from previous ones. In the midst of a global pandemic, strict rules and guidelines have been implemented in order to ensure the health and wellbeing of anyone entering polling stations.
Social distancing practices, proper mask coverage, limited capacity, and gloves used by those working can be observed in several cities voting areas, adding new elements to the well known crowded polling stations. 
Something that has been very topical during the 2020 election, is mail-in-ballots. It has sparked controversy amongst many Americans, including presidential candidates Joe Biden and Donald Trump. Although mail-in-ballots have been around since the Civil War era, in this election especially, we've seen a spike in their usage, as voters wary of Covid-19 opt to remain away from crowded areas. This way of voting allows voters to stay protected from higher risk areas, or if they are in quarantine, allows for people to still have the ability to cast their ballot in a safe way. 
Along with mail-in-ballot votes being more prominent with this 2020 election process, the push for early voting was drastic. This year, some states had early action voting set as far back as 45 days prior to the election.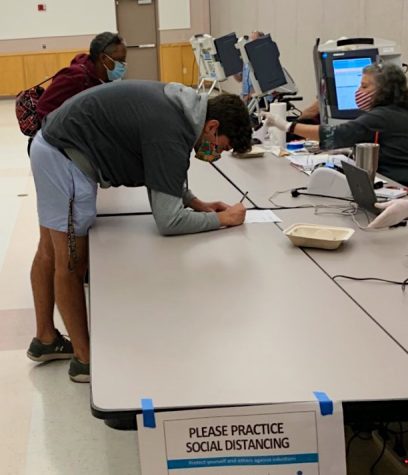 First time voter Jackson Brandhorst took the initiative to cast his vote three weeks early at the Civic Center in Carbondale.
"To me it was not different at all since it was my first time voting; it was the experience I was handed. We had to wear our masks, we had to social distance in line, there was only a certain amount of people allowed in certain areas, each voting station was 6 feet apart, we had to vote via q-tip stylus on touch screens so we didn't make contact, then we threw away our q-tip when done."
Early voting was extended not only because of the coronavirus pandemic, but also because there was a projected influx in the amount of voters this year, as this election is deemed very important due to the current state of America. 
Whether it be through mail-in-ballots, in person, early action, or on November 3rd, use these methods to your advantage and get out and VOTE! Every vote counts, so be sure to check to see where your local polling stations are available, and use this unique election to let your voice be heard!