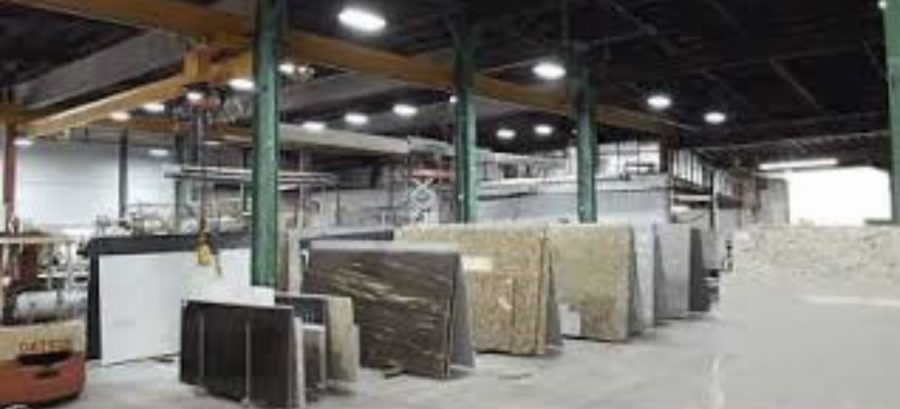 If you have ever driven past the F-W-S Countertops building at the corner of U.S. Highway 51 and West Willow Street in Carbondale, you will have seen stone slabs the dimensions of billboards displayed at the front of the building. Within F-W-S, there are more examples of natural stone and endless factory-made surface choices which will help the design of your home. F-W-S owner Al Kuczynski is at the workplace on a Saturday. Like several small business owners, his job is 24-7, and therefore the quiet of a Saturday provides him the time to specialize in elaborated work. "When a customer walks through the door our goal is to create that customers dream kitchen or bathroom," Kuczynski said.
Kuczynski has kept things moving since 1978. After graduating from SIU with a bachelor's degree in mass communications, he found himself, along with several friends, in Makanda on what is now known as the Makanda Board Walk trying to start a business. "We had what we jokingly called 'The Boys Club.' We were all Chicago transplants," he said. "We restored the buildings down there." It took fifteen years in Makanda for Kuczynski to outgrow his workshop and create the leap to Carbondale. Since 1993, he has occupied the F-W-S building in phases, increasing over time, into a series of buildings that house all his business. The primary space that he occupied was what is currently referred to as the dry room, it had been a former auto dealership building. You are walking into a gallery of marble, quartz, granite, and many more natural stone slabs.
"The business and the buildings have evolved in the last 27 years to now include two buildings and an outdoor courtyard." Kuczynski said. "With F-W-S, the Southern Illinois Recycling Center owned by Tasis Karayiannis, and Susan Barnes Studio opening, the little warehouse district was born." The layout of Kuczynski's property is determined by function. In the front building, you will find the dry process room, where anything that uses dry powered equipment is manufactured. They build casings and cabinets out of wood, fiberboard, and Corian a solid surface countertop material. They do not advertise it; however, they build custom furniture.
"We have numerous proficient people, if you provide us one thing to build, we are able to build it." Kuczynski said. Next you enter an area that accurately reflects the vibe of a rock museum. This large room displays many rows of 1,500-plus pound stone items with highlight color, composition, and texture. "We have completely different rocks from everywhere around the world." While F-W-S owns most of the slabs, they have a consignment agreement with ten stone importers. "They obtain it, and then we show it," he said. The next area is devoted to showing product samples from different producers of designed quartz. "People select quartz for a glance and a color," Kuczynski said. "Last, we tend to come back to the wet area, referred to because of the water needed to chop the stone into its new form as a countertop, a desk, and so on. It is a cavernous, barn-like structure with the first picket beams and panels of the ceiling exposed. When we bought this building, this room was dysfunctional." Kuczynski said. "It was not possible to heat, a virtual hockey skating rink in the winter, and a steam bath in the summer. However, we simply had the building totally insulated from the skin in which it stabled everything." Here, many matching slabs wait to be cut into countertops and vanities for a hotel/motel in Mount Vernon. Kuczynski said that "builders will often buy in quantity, because it becomes really cost effective." Take note: In the back of this room lie "the Orphans," which are the pieces of stone left behind once larger jobs have been fulfilled. F-W-S sells them at discounted prices.
These pieces of stone would be suitable for smaller tabletops, end tables, even outdoor BBQ surrounds. And do not feel shy about visiting. F-W-S is a good spot for field trips of every kind. They have had the Southern Illinois Gem Society in to look at all the rocks. They have also had the Jackson County CEO program bring kids by to see what they do. "We open our doors when we can to try to help educate folks. As a small business owner, I have had to learn so many skill sets — business management, human resources. We have about 15 employees now, so human resources are huge — accounting, buying, maintenance," Kuczynski said. "I wear so many hats. And it's good for young people to get a sense of what it means to run a business." Kuczynski's involvement in the community stretches back decades.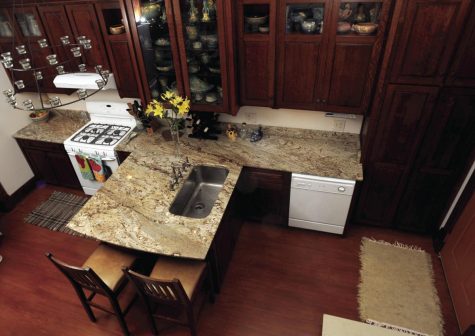 Kuczynski also supports local up-and-coming craftspeople by offering them low-cost workspace. It was occupied by Jared Smith, an area metal worker, who became thriving enough to maneuver out into his own space. "To place it bluntly, we have a tendency to feed off them, they feed off us," he said. And, as Kuczynski said, "If you're planning to keep in business, you would like to roll with the punches, once the market changes, you adapt."