Gabby Fernandez
Gabriella Fernandez tried to speak to me in Spanish. I do not speak Spanish.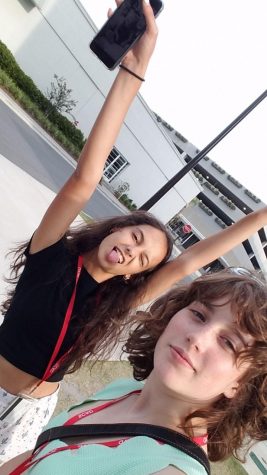 I told her this, and she continued to pursue the topic. As she spoke, I listened for cognates and context, trying my best to piece together the information from my very limited knowledge of the language, and for the most part, I did pretty well.
I met Gabby when I went to Savannah, Georgia, filling a week of my summer with an art camp at the Savannah College of art and Design, (SCAD). She was my suite mate
, staying in the room next to me and sharing a small common space between the two rooms. She was small: short in height and generally a petite girl, thin and cute. Her voice matched her figure, sweet and soft, and with a noticeable Guatemalan accent. She spoke perfect English, even though she had come from the small country of Guatemala, having been traveling to the United States for years, spending most of her time in Miami, Florida.
When I first introduced myself, she was with her parents. They had opened the door into shared space and had begun to set up her room, sheets and blankets being pulled from bags, and toiletries being taken to the bathroom. I introduced myself, only to find that her parents spoke in thick accents, and seemed to know less English than their daughter. She translated for me under her breath and her parents gave me a warm welcome. When they left her there, I invited her out into the common room, my own roommate, Grace, joining us. Because of our living situation, there was no way I wouldn't get to know her.
About two days in, Gabby dragged her mattress into Grace and my room. Her roommate, unfortunately, was an incredibly loud snorer, and had kept Gabby up for the past two nights. The bags under her eyes were proof enough, so Grace and I helped her arrange her bed on the floor.
Gabby was a very different person than me. Many of these traits came from having grown up in an entirely different country. She was brave and cool, kind and sweet, and over all a fun person to be around. She instantly drew the attention of the other pretty girls, many of then kind, but obviously used to being the center of attention. I tagged along.
By the end of the week, I had come to thoroughly enjoy my pseudo roommate. She was interesting, and seemed interested enough in knowing me as I was in knowing her. She gave me a bracelet before she left. It was made of of string, dyed with beautiful blues, blacks, and emeralds. We stayed in touch for a while, talking together and face timing after we had returned home. Although that communication has dies down at current date, she is the object of many enjoyable memories from my time in the new city.
Maybe I'll talk to her again soon. It's always nice to talk to a friend. 🙂