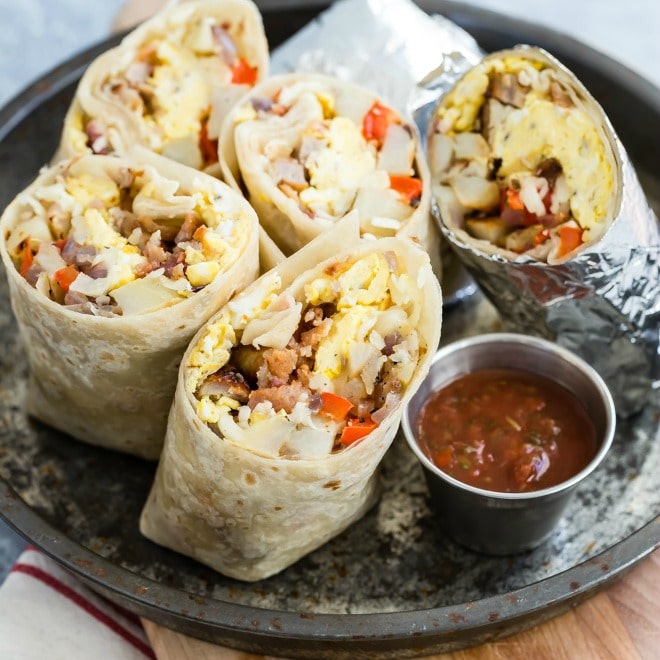 Breakfast is known as the most important meal of the day. RIGHT?  The first time I've made a breakfast burrito the way I like them included soft scrambled eggs nowhere near dry with hot wet vegetables!  
When preparing for this dish you would need to gather all of the following ingredients. You would need 16 oz of potatoes hash browns, 12 large eggs. This isn't just any type of burrito it's more like a monster burrito you could feed multiple people. You'd also need a large onion diced up, a large green pepper diced as well. ½ of beef sausages fried until brown and drained. You also need 12 warm floured tortilla; I prefer the 10 inch kind. 3 cups of shredded cheddar cheese. You could serve this with salsa, this makes it taste so much better. 
When cooking this dish, you should first fry the hash browns in a large skillet according to the package directions.        
In a large bowl, beat eggs; add the onion and green peppers… Pour all of that into a large skillet, cook and stir until eggs are set. NOWHERE NEAR DRY! Remove the eggs, onions and peppers from heat. Add hash browns and beef sausages and stir gently. 
Place about ¾ cup filling on each tortilla and top with about ¼ cup of cheese. Roll them up and place them on a greased baking pan. Set the oven to 350 degrees and cook for about 15-20 minutes.
Enjoy!